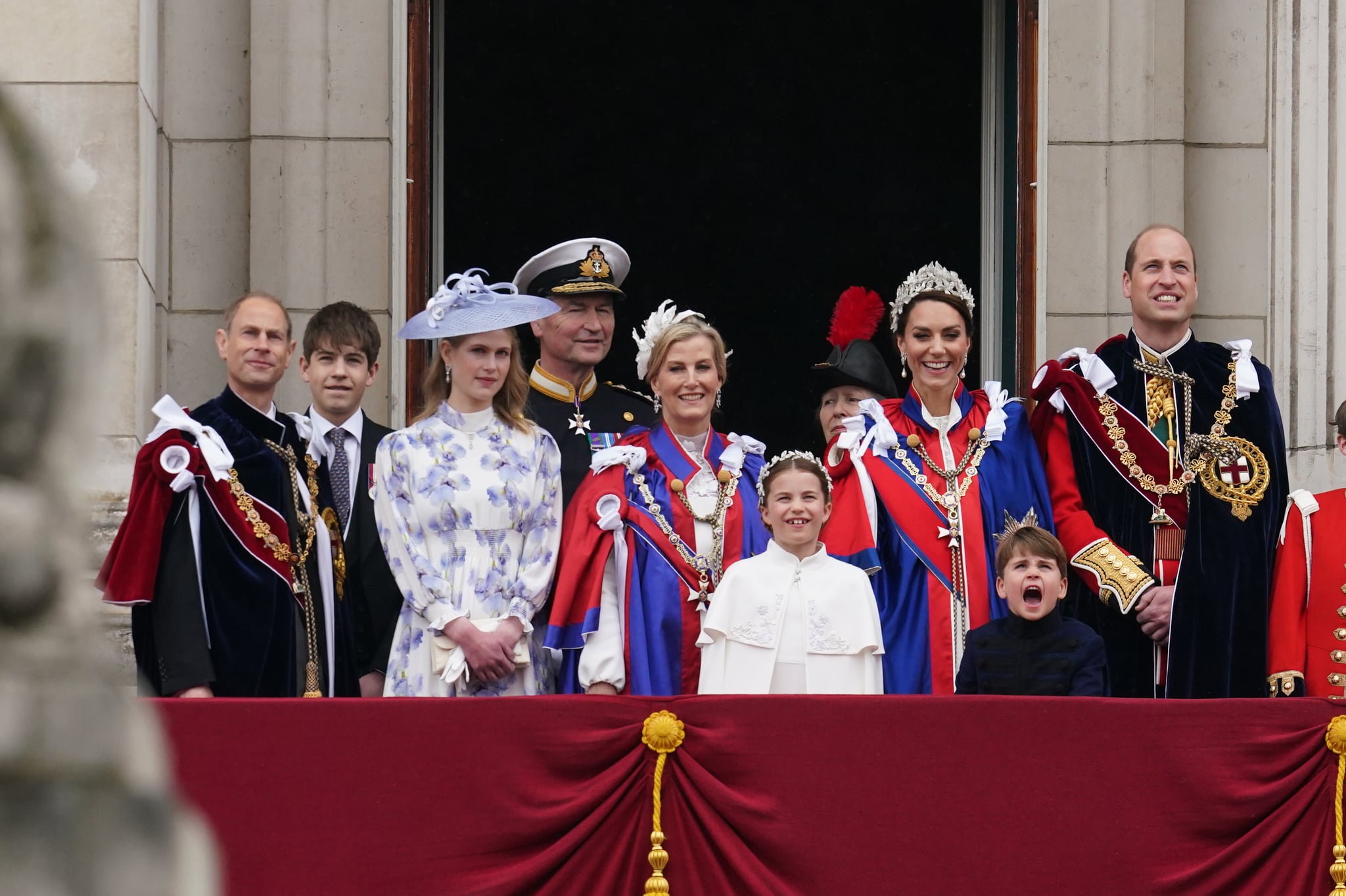 As King Charles III's coronation concludes, discussions around who is next in line for the throne have become front of mind. Following Queen Elizabeth II's death on Sept. 8, 2022, her first-born son immediately became the sovereign and the rest of the family moved up in the line of succession. While the coronation formalized his place as monarch, Charles has actually been king since the moment his mother passed away. During the coronation ceremony, Prince William, who is next in line, played a prominent role, as did his three children: Prince George, Princess Charlotte, and Prince Louis.
Having reigned for seven decades, Elizabeth was the UK's longest-reigning monarch, and was appointed to the throne at just 25 years old. By contrast, King Charles is 74 years old and is the oldest heir to accede to the throne. Charles's wife, Camilla, was crowned alongside him and became Queen.
The line of succession to the British throne has seen several changes over the past years as more and more royal babies have been welcomed into the family. In 2013, the Succession to the Crown Act was passed, meaning gender would no longer play a role in determining the order of progression. With 24 members of the royal family making up the list, it's not easy to get your head around the official protocol. Here's the current roster.
King Charles III: At 74 years old, Charles is the oldest heir to accede to the British throne.
Prince William: As the firstborn of the queen's firstborn, William stands to inherit the throne after his father.
Prince George: It may be hard to picture now, but one day, the sprightly prince will rule.
Princess Charlotte: As a spare heir to the throne, Charlotte will act as a support to her big brother until he has a family of his own. Charlotte also makes history as the first female royal not to lose her spot in line for the throne to a male heir.
Prince Louis: The young prince is fifth in line, taking over the post from his Uncle Harry.
Prince Harry: With the birth of Prince Louis, Harry became sixth in line for the throne.
Prince Archie Mountbatten-Windsor: Archie, the first child of Harry and Meghan Markle, is seventh in line for the throne.
Princess Lilibet "Lili" Diana Mountbatten-Windsor: Harry and Meghan's daughter Lili, named after the Queen's nickname, is now eighth in line behind her big brother.
Prince Andrew: With the birth of baby Lili, the queen's second-born son has also moved down in line.
Princess Beatrice: The Duke of York's older daughter, whom he shares with ex-wife Sarah Ferguson, is next in line.
Sienna Mapelli Mozzi: Princess Beatrice's daughter, Sienna, was born in September 2021 making her 11th in line.
Princess Eugenie: Beatrice's younger sister is positioned after her niece.
August Brooksbank: Princess Eugenie and Jack Brooksbank's son, who was born in February 2021, is in line behind Eugenie.
Prince Edward: The Earl of Wessex is the last born to Queen Elizabeth II and Prince Philip, but due to the Act of Settlement 1701 (which was amended in 2013), Edward was able to displace his older sister, Princess Anne, in line for the throne. Because of the updated Succession to the Crown Act, Princess Charlotte's place in line wasn't affected, even though her younger sibling is a boy.
Viscount Severn: James, Viscount Severn, is the only son of Prince Edward and his wife, Sophie. Because he was born in 2009 — the Act applies to those born after October 2011 — he was able to cut in line ahead of his older sister, Louise.
The Lady Louise Mountbatten-Windsor: The teenager, whom you may remember as a bridesmaid in Prince William and Kate Middleton's wedding, is in line for the throne after her younger brother.
Princess Anne: As the queen's second child, Anne was third in line for the throne at the time of her birth — but being a girl meant that both of the princess royal's younger brothers, Andrew and Edward, would later surpass her in the succession line.
Peter Phillips: Princess Anne's son is in line ahead of his younger sister, Zara.
Savannah Phillips: Peter's 6-year-old daughter, Savannah, is next in line.
Isla Phillips: 5-year-old Isla follows her sister, Savannah.
Zara Tindall: Zara Tindall (née Phillips), who is Princess Anne's only daughter and is married to former English rugby player Mike Tindall, is next in line.
Mia Tindall: Zara and Mike's daughter, who they welcomed in January 2014, is next in line behind her mother.
Lena Tindall: The couple's second daughter, who they welcomed in June 2018, follows Mia in line.
Lucas Tindall: Rounding out the list, Zara and Mike's son is 24th in line.