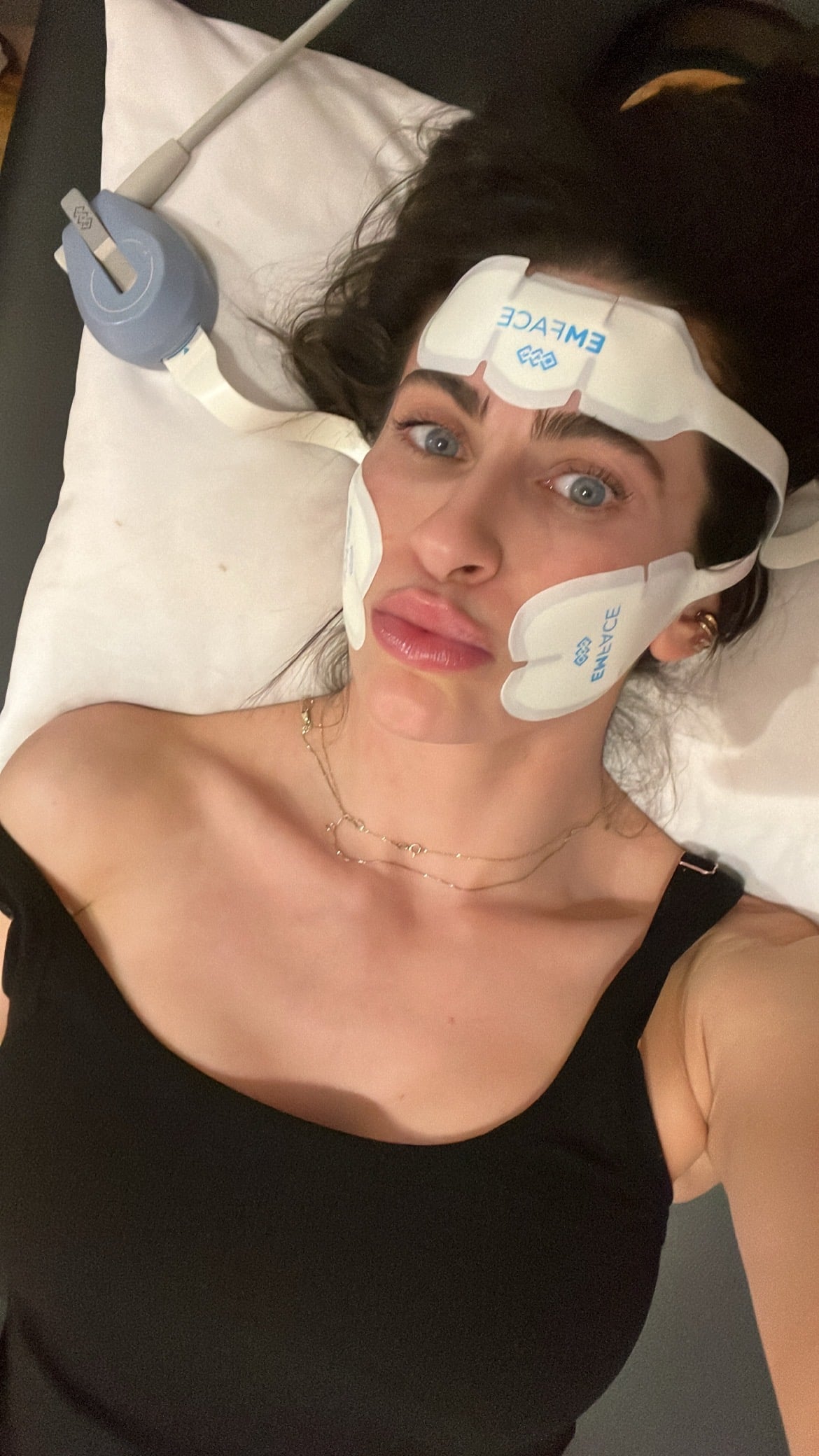 For the past 20 years since Botox became FDA approved, the facial-freezing injectable has been the industry's gold standard in the treatment of wrinkles and fine lines. Now, with Emface, a noninvasive technology that combines radiofrequency and high-intensity facial electrical stimulation (or HIFES) to stimulate collagen and elastin, tone the skin, reduce fine lines, and essentially lift the skin, the focus has switched to getting the facial muscles moving in the name of facial rejuvenation.
I first heard about this treatment from — where else — social media, and I was both intrigued and almost confused by it. My thought was: if a device that stimulates muscle movement is applied to the face, wouldn't that cause wrinkles from all the movement, rather than lifting and sculpting? After doing some research and trying it out myself, I could not have been more wrong in my thinking.
Below, keep reading to learn the basics of Emface and see what happened when I tried it out.
What Is Emface?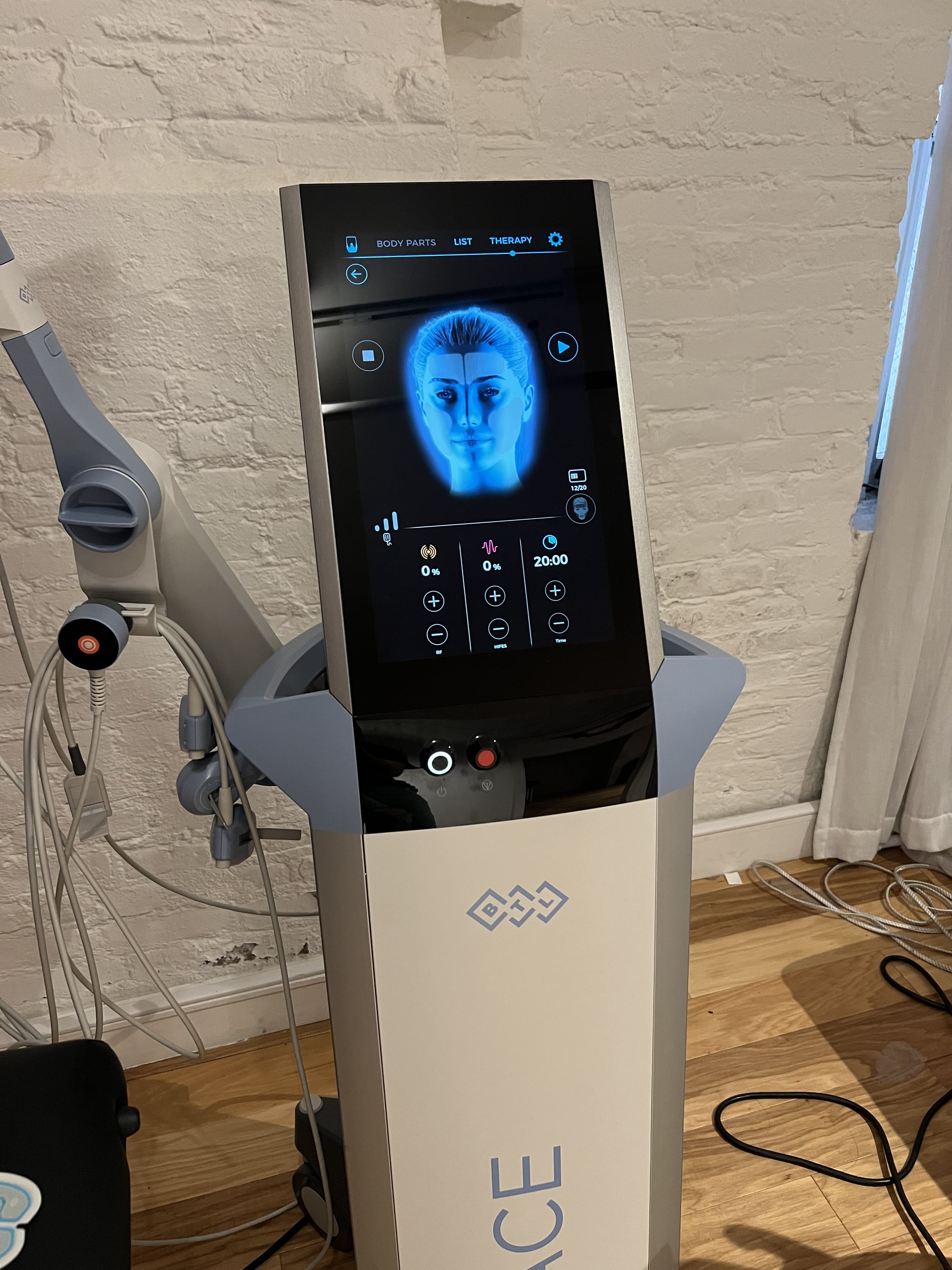 If you've heard of Emsculpt or Emsculpt Neo body treatments, it's helpful to note that Emface employs a similar technology but is placed on your face rather than your abdominals or buttocks. Both are manufactured by BTL Aesthetics, but Emface is designed specifically for the delicate facial muscles, says Yael Halaas, MD, FACS, a double-board-certified plastic surgeon in New York City. The muscle stimulation works through the placement of adhesive electrodes "on the frontalis muscle of the brow and zygomaticus of the cheek," says Paul Jarrod Frank, MD, a celebrity cosmetic dermatologist and owner of PFRANKMD in New York City. Specifically, the frontalis muscle plays a role in elevating the brow, and the zygomaticus major, minor, and risorius muscles in the cheeks help to lift the midface, as well as the corners of the mouth, Dr. Halaas adds.
In addition to the three adhesive electrodes placed on the face — one on the forehead and one on each cheek — an additional "grounding pad [is placed] on one's back [that allows] radiofrequency energy to optimize electrical stimulating pulses that are delivered to [these] specific facial muscle groups. This HIFES technology is performed in four weekly 20-minute sessions."
Dr. Halaas likens Emface to a form of resistance training, but for your facial muscles. "Just like how lifting weights strengthens skeletal muscles, exercising facial muscles can lead to increased muscle tone, restoration of cheek volume, and a more lifted appearance. Because the facial muscles uniquely all lie in the same fascial plane, the SMAS [superficial musculoaponeurotic system], the improved muscle tone can elevate the jawline and neck to a degree, as well as lift the brow to a restored, natural position."
As Dr. Frank notes, the device is clinically shown to stimulate and improve overall muscle tone of the face, as well as skin thickness and structure, and it is virtually painless and without downtime. Virtually painless and with no downtime — two things that many of us can jump on board with when it comes to facial procedures, many of which are known to be painful or accompany some sort of pain.
What It's Like to Get Emface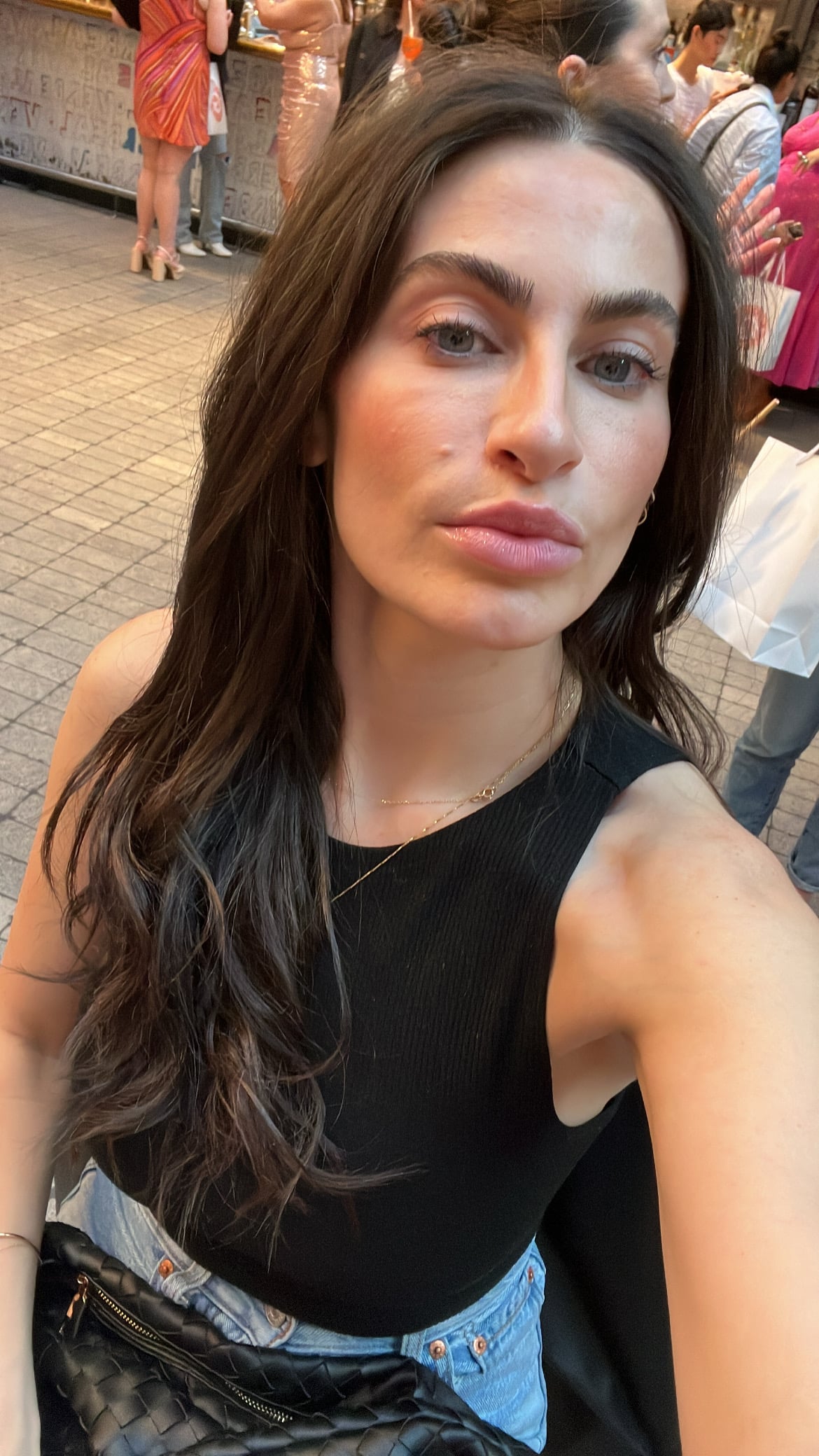 For my Emface treatment, I went to The Body Boutique in Manhattan, which houses several of the BTL Aesthetic devices, and was met by Evelyn Ramirez, LME, a licensed medical aesthetician and owner of Evelyn Aesthetics Medispa in New York City, who would be performing the procedure on me. I had been trying different aesthetic treatments at the time, but I was excited to try this much-buzzed-about technology, especially because it was the only one that specifically targets your facial muscles. I thought Emface was the missing piece to my overall antiaging regimen.
First, Ramirez explained that she would be placing the grounding pad on the upper part of my back to optimize the radiofrequency energy emitted from the device. I lifted my shirt and moved my bra strap down, and she applied the pad. Afterward, I laid down and readied myself for the procedure. Ramirez removed the sunscreen and makeup from my face so the adhesive electrodes placed on my forehead and cheeks would remain stuck to my face throughout the entire 20-minute treatment. She then applied the three adhesive electrodes to my face — one on my forehead and one on each cheek.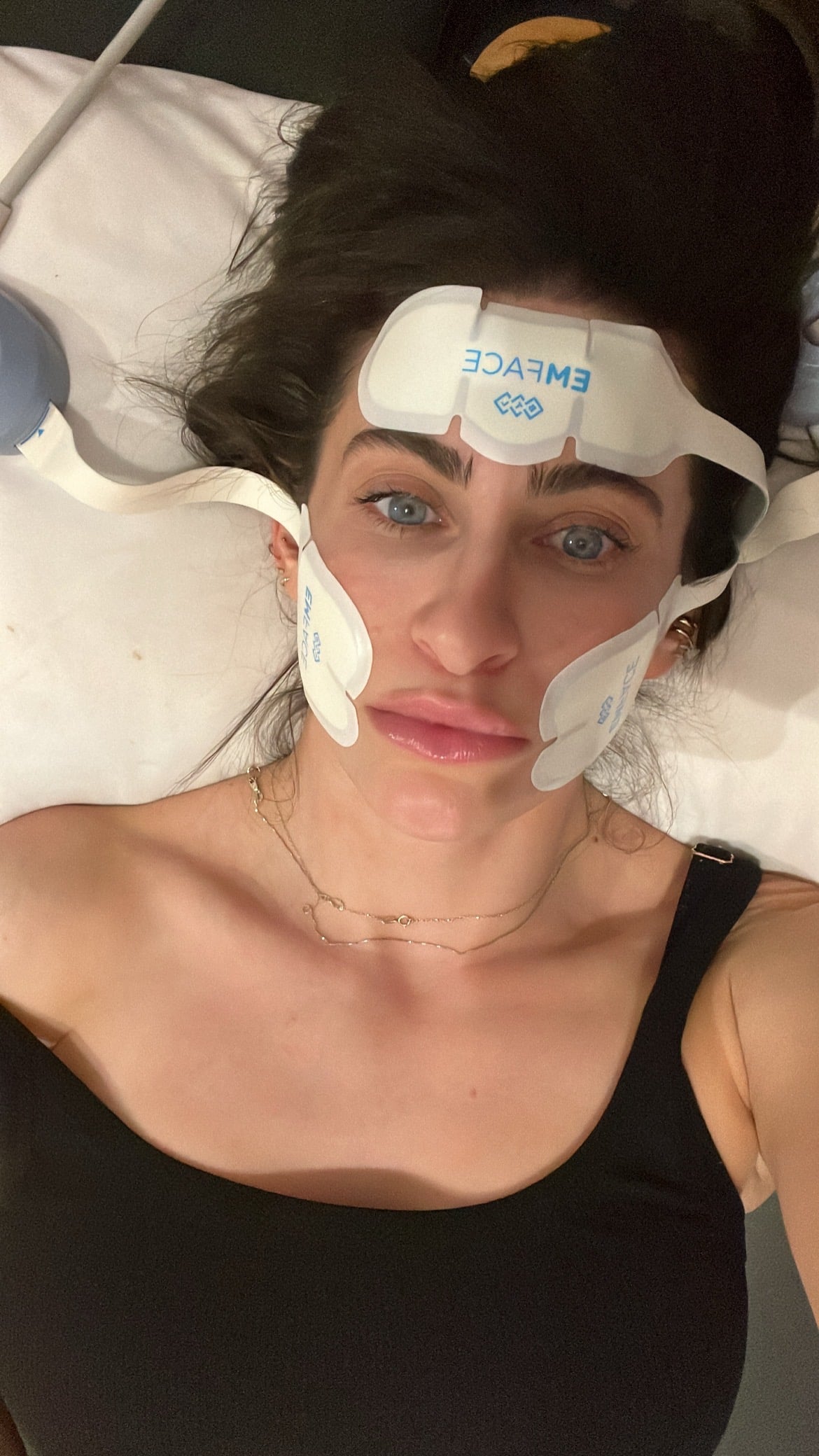 Ramirez warned me that, though painless, the muscles in my face would be moving and it would feel a little weird, but I would get used to it. She started me on a lower intensity to get me used to the sensation. The goal was to eventually build up the intensity to 100; I believe I made it to about 80 or a little higher at the end of my five treatment sessions.
During the 20 minutes of the treatment, I endured the strange feeling of muscle movements in my face that changed their pattern every few minutes or so, in addition to heat emitted from the pads from the radiofrequency. The movements felt like continuous muscle spasms every couple of seconds. I giggled through the first couple minutes of treatment because the feeling of the movement was completely involuntary and unlike anything I had felt before in my face. The uncontrollable facial movements made my eyes twitch and close. During that first session, I picked up my phone to record video just to see how ridiculous I looked — I giggled through that as well.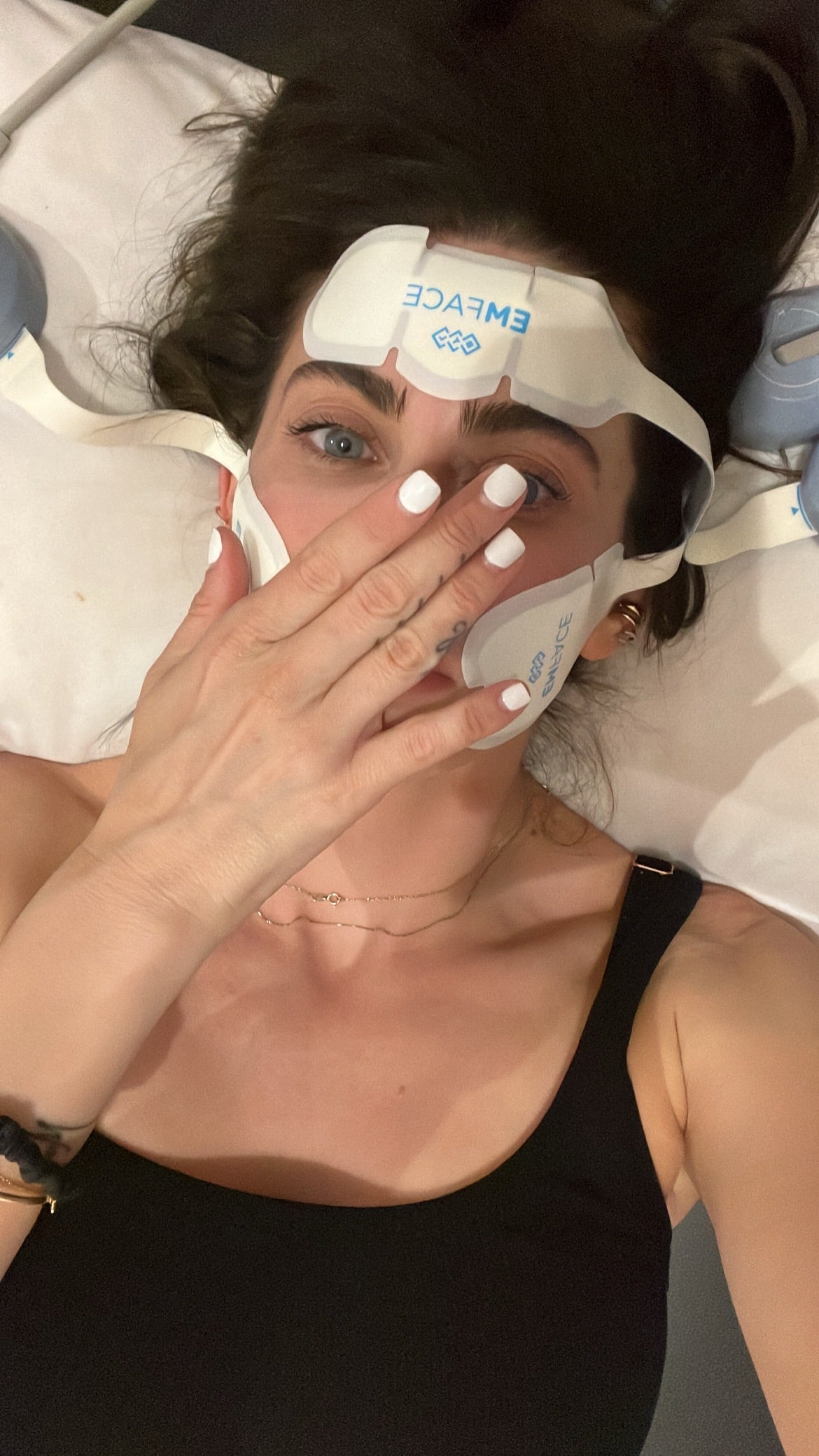 The 20 minutes passed quickly, and it was time for Ramirez to remove all the pads from my face and back. It was really that easy. As I sat up, she told me most people experience a noticeable difference after one session but that at least four are needed to see the full results.
Excited, I got up from the table and ran to the bathroom to look in the mirror. Though a little flushed from the heat, my skin looked tighter and smoother, and my eyebrows and cheeks looked more lifted. I was thoroughly impressed with the results after just one session. I felt like all I had been doing to take care of my skin helped produce even better results than I'd thought possible.
I returned for my Emface treatment once a week for the next four weeks, deciding to do five treatments in total (one extra than the recommended for good measure). My experience with Emface remained similar; the only difference was that Ramirez upped the intensity of my treatment each time I went. For every session, my tolerance of the treatment increased, mostly because I knew what to expect, and with each session, the results became better and better.
Emface Aftercare
What's so great about Emface is you can go about your day directly after treatment. There's no need to switch out your skin care or stop any actives before or after treatment. Additionally, because there's no downtime, it's only recommended that in between sessions, if you decide to get Botox, to wait 24 to 48 hours prior to your next Emface treatment. With dermal filler, Dr. Halaas recommends waiting two weeks, allowing it to settle and heal, only if it's applied in the areas where the Emface electrode applicators are placed — lip filler isn't affected by this. If you're planning on filler, it's best to get it either two weeks prior to your Emface sessions or right after your last one.
For maintenance, Nazanin Saedi, MD, FAAD, a board-certified dermatologist at Plymouth Dermatology in Philadelphia, says four sessions are recommended every six to 12 months as maintenance. However, the frequency of sessions can depend upon your initial results, skin characteristics, and lifestyle.
Is Emface Worth It?
With an average cost of $4,500 for a package of four sessions, Emface will set you back a pretty penny. Depending upon your age and goals, you may not feel the price tag is worth it, especially because the results are not incredibly dramatic, but they are indeed very noticeable. However, the benefits of preserving your facial muscles and the integrity of your skin and increasing the volume of your face make these smaller yet significant wins worth it down the line. For me, the results were worth it.
Emface After Photo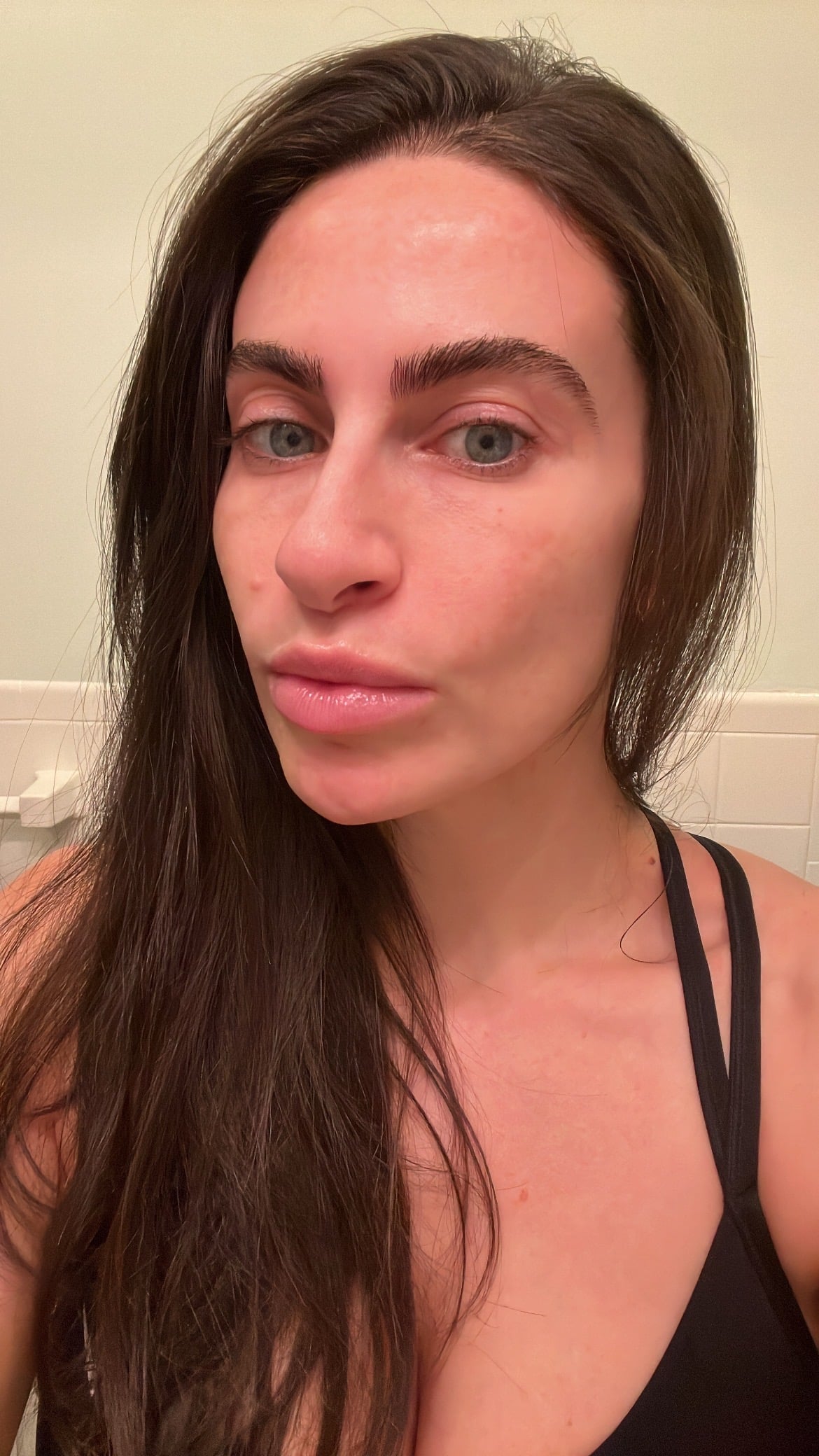 "Emface results are natural, allowing the body to restructure the skin and sculpt the lines of your face, naturally. It will take six to 12 weeks before you achieve your ultimate results," Dr. Halaas says.
At this point, six weeks post-treatment, I have experienced gradual yet noticeable changes in my face. I have been noticing more volume in my cheeks, and my brows appeared more lifted. Also, when I had gone for the treatment, I had already passed my three-month Botox mark, and Emface, specifically on the forehead, allowed me to wait on getting more Botox for another few weeks, which I was extremely happy about. Overall, if time and budget allow, I highly recommend this treatment, and I plan on going back at either the six- or 12-month mark, depending upon seeing continued results from the treatment.
Image Source: Taryn Brooke