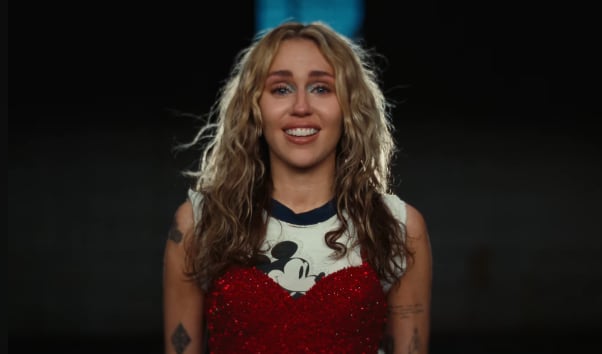 Miley Cyrus's "Used to Be Young" music video is so emotional. In the visual, which was released on Aug. 25, Cyrus gets teary-eyed as she sings her ballad's deeply personal lyrics, which are all about the public scrutiny she's faced over the years. The song appears to specifically reference her transition from a teen idol on Disney Channel to an adult pop star in her early 20s.
After leaving "Hannah Montana" in 2011, Cyrus caused controversy among the media and her fans by dressing more provocatively and releasing music with references to sex and drugs. This ultimately led to her being known as a wild party girl. Despite causing a stir in Hollywood, Cyrus now looks at that transitional time of her life with nothing but fondness. "This song is about honoring who we've been, loving who we are & celebrating who we will become. I feel proud when reflecting on my past and joyful when thinking about the future," Cyrus explained on Instagram.
The star's "Used to Be Young" lyrics and music video include little nods to different eras throughout her career. In case you missed them, check out the biggest Easter eggs below.
Miley Cyrus's Mickey Mouse T-Shirt
Cyrus may have wanted to ditch her Disney Channel past before, but now, she's embracing it. In her "Used to Be Young" music video, Cyrus pays tribute to her days on the children's TV network by wearing a Mickey Mouse t-shirt. Her black and white top can be seen underneath her sparkly red dress.
Prior to the song's release, Cyrus recreated a viral "Hannah Montana" meme in an Instagram video by singing the show's iconic transition melody. "This is how I say goodbye to everyone now," she said in the clip.
Aug. 25 Release Date
On Aug. 18, Cyrus shared a teaser video for "Used to Be Young," in which she revealed that her single's Aug. 25 release date holds an important meaning for her "personally and in my career." Notably, on Aug. 25, 2013, Cyrus released her hit single "Wrecking Ball," which is speculated to be about her then-breakup with ex-husband Liam Hemsworth. On the same day, the singer made headlines for her controversial performance at the MTV Video Music Awards, which involved her infamously twerking on Robin Thicke on stage.
"Used to Be Young" Song Lyrics
Cyrus begins her single by acknowledging that she's changed. "I don't dress the same. Me and who you say I was yesterday have gone our separate ways," she sings. "Left my livin' fast somewhere in the past." The lyrics are seemingly a nod to her controversial "Bangerz" era in 2013. At the time, Cyrus got people talking due to her fashion statements, which included bodysuits and nipple pasties. Her album's song lyrics also raised eyebrows due to her references to sex, drugs, and partying.
In the song's chorus, Cyrus says that even though people called her "crazy" at the time, she was just having "fun" and enjoying being "young." Although both Cyrus's image and music have since matured, she isn't ashamed of her past self. "You tell me time has done changed me. That's fine. I've had a good run," she sings.
With this in mind, "Used to Be Young" serves as a love letter to Cyrus's early days as a pop star. We can't wait to see how her career continues to evolve moving forward.
Miley Cyrus's "Used to Be Young" Music Video
Image Source: YouTube user Miley Cyrus