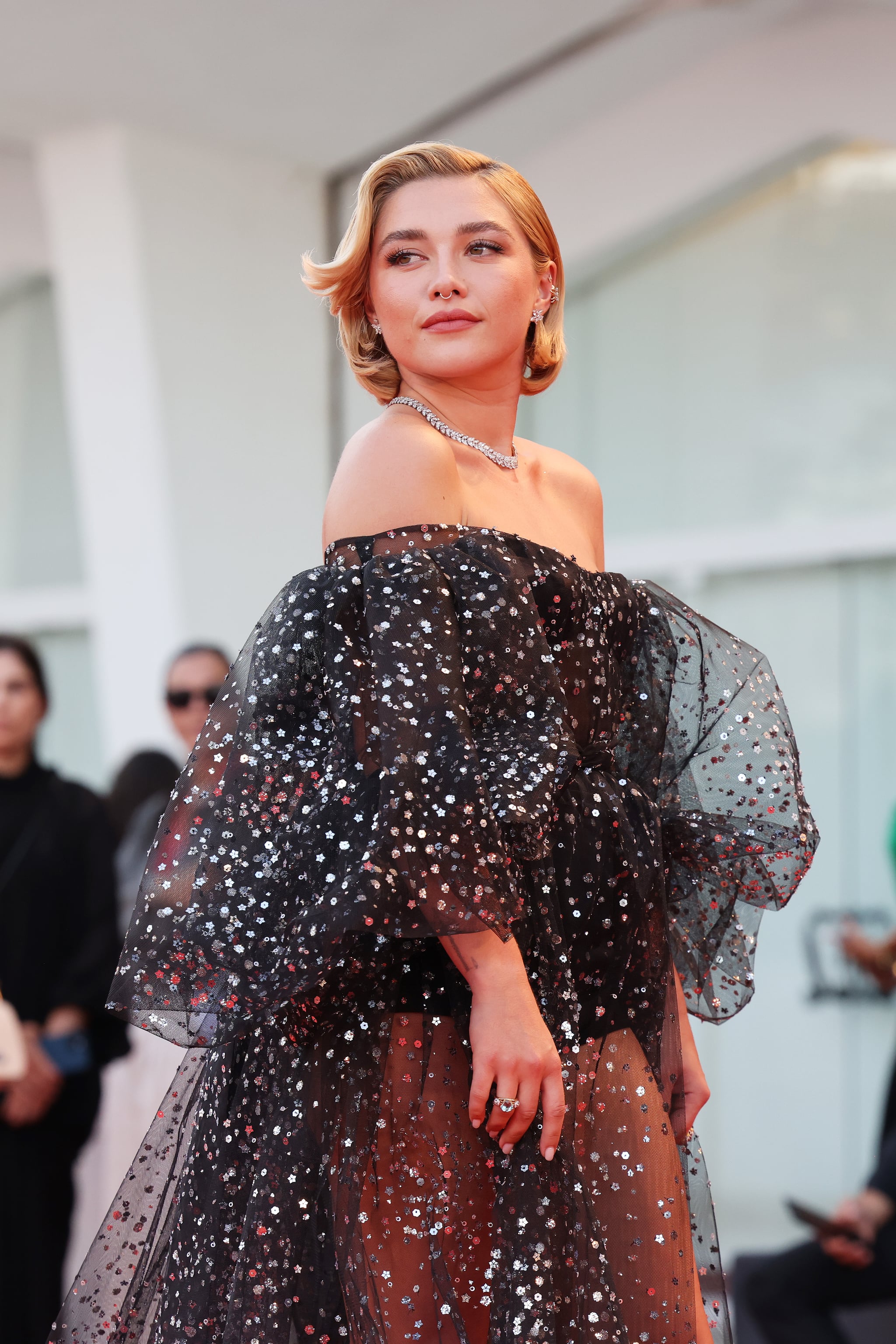 Image Source:
Getty / Stefania D'Alessandro / WireImage
Florence Pugh is speaking her mind about unsolicited fan comments regarding her body. Last summer, Pugh made headlines when she wore a nipple-baring dress at the Valentino haute couture fashion show in Rome. Subsequently, the star was overwhelmed by an influx of body-shaming comments on social media. "When everything went down with the Valentino pink dress a year ago, my nipples were on display through a piece of fabric, and it really wound people up," Pugh said in a recent interview for Elle UK's October issue. "It's the freedom that people are scared of; the fact I'm comfortable and happy."
"I speak the way I do about my body because I'm not trying to hide."
Immediately after the internet upheaval, Pugh addressed fan reactions in a post shared on Instagram in July 2022. Though she expected her outfit to get some attention, she said it was "interesting to watch and witness just how easy it is for men to totally destroy a woman's body, publicly, proudly, for everyone to see."
While Pugh found these reactions concerning, she pointed out that bodies are meant to be celebrated, not shamed. "Thankfully, I've come to terms with the intricacies of my body that make me, me," she continued on Instagram. "I'm happy with all of the 'flaws' that I couldn't bear to look at when I was 14. So many of you wanted to aggressively let me know how disappointed you were by my 'tiny tits,' or how I should be embarrassed by being so 'flat chested.' I've lived in my body for a long time. I'm fully aware of my breast size and am not scared of it." On the contrary, Pugh said negative comments are more reflective of those speaking them than anything else. "I think the scariest thing for me are the instances where people have been upset that I've shown 'too much' of myself," she told Elle UK.
Though disappointing, Pugh ultimately saw fans' negative reactions as a reflection of social norms designed to keep women down based on the size and shape of their bodies. "I think we're in this swing now where lots of people are saying, 'I don't give a sh*t," she continued in the interview. "Unfortunately, we've become so terrified of the human body that we can't even look at my two little cute nipples behind fabric in a way that isn't sexual. We need to keep reminding everybody that there is more than one reason for women's bodies [to exist]."
As a younger actor, Pugh said it was challenging to speak candidly about her body and feel comfortable in the spotlight. "When I first started doing red carpets, it was really tough," she said. "It takes ages to feel comfortable with 50 men all shouting, 'Picture, over here!'" In recent years, however, she's managed to boost her confidence due in large part to her wardrobe choices: sheer designs, cutout pieces, and pantsless ensembles. "I've become more confident in the last few years," she said. "I think that's hugely linked to the clothes I've been wearing. The more you can enjoy it, the more [people] can see that you're enjoying it."
Regardless of her candor, Pugh is aware that the negative comments will continue to filter in. Still, she embraces her body, celebrating all its flaws, and hopes that others will follow suit. She said, "I speak the way I do about my body because I'm not trying to hide the cellulite on my thigh or the squidge in between my arm and my boob: I would much rather lay it all out."