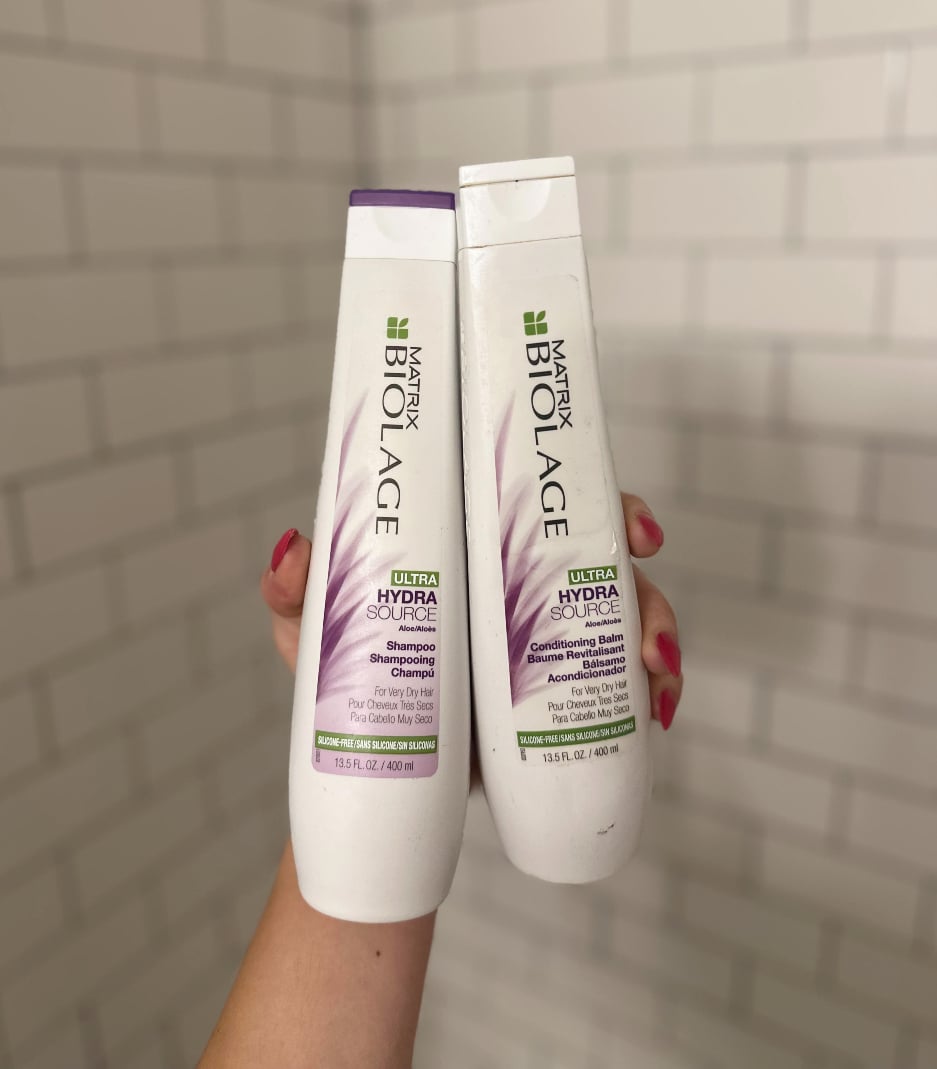 Through the years, I've tried more shampoo and conditioner duos than I'd like to admit. As someone with thick and dry hair, I try to test as many hydrating formulas as possible. Admittedly, it isn't often that a product blows me away. Many are good. More are are meh. But then there are those that genuinely surprise me, like the Matrix Biolage HydraSource Shampoo ($23) and Conditioning Balm ($23).
The pair has become my go to, and has maintained that status for literal years. Despite having tried many high-end options available in the market, this combo consistently impresses me more than the rest. Ahead, I dive into why that is — and why you should definitely consider trying it if you have dry and thick hair like me.
About the Matrix Biolage Shampoo and Conditioner Balm
This shampoo and conditioner was formulated for medium to coarse hair.
Both products are paraben and sulfate-free.
One of the key ingredients in both is aloe leaf juice, which helps your hair retain and obtain moisture.
The line also includes a Leave-In Tonic ($24) to protect hair and a Mask ($29) for an extra-intense moisture boost.
What I Like About the Matrix Biolage Shampoo and Conditioner Balm
I love the Matrix Biolage Shampoo and Conditioner Balm so much that I've bugged my friends and family to try it — and they, too, have fallen in love for the same reasons as me: it makes my hair super soft, lathers super well, and imparts next-level shine. I blow-out my hair at home using the highly coveted Shark Flexstyle Air Drying & Styling System, and the shampoo-conditioner duo has proven to be the perfect way to prep my hair because the shampoo does a great job at giving my hair volume at the roots. Amazon reviewers agree. One shopper who said the shampoo's "the best she's ever used" noted that it doubled her hair's normal volume, and that's just one example of many.
Another thing I appreciate is the scent. IMO, it smells heavenly and distinct from other shampoos and conditioners I've tried in the past. The subtle, sweet coconut scent is so memorable that I even identified it while getting my hair washed during a salon appointment.
How to Use the Matrix Biolage Shampoo and Conditioner Balm
There's nothing tricky or complex when it comes to using the Matrix Biolage Shampoo and Conditioner Balm. As someone who only washes my hair once a week, I like to double-cleanse with shampoo. Through my years as a beauty editor, I've had several hairstylists recommend this to me as a way to rid my hair of product buildup with the first rinse and cleanse the scalp with the second. After that, I apply the conditioning balm solely from my mid-length to ends and then shave or wash my body to let the product absorb into my hair (this part usually spans three minutes or so).
What to Consider Before Trying the Matrix Biolage Shampoo and Conditioner Balm
Recommending hair products is tricky, especially entrusting strangers on the internet like me. However, I solemnly swear to stand by this shampoo and conditioner; I'd enthusiastically suggest it to my closest circle and strangers. The two most important things to consider before adding them to your shopping cart are that it's not formulated for fine hair but medium to coarse hair, which may impact your experience negatively if you go against the grain. Secondly, I understand that fragrance isn't for everyone, so you might want to consider another shampoo-conditioner duo if you prefer it to be free of added fragrance.
Where to Buy the Matrix Biolage Shampoo and Conditioner Balm
The Matrix Biolage Shampoo and Conditioner Balm is available on Amazon, as well as at Ulta Beauty and Target.
Rating:
Image Source: POPSUGAR Photography / Marisa Petrarca