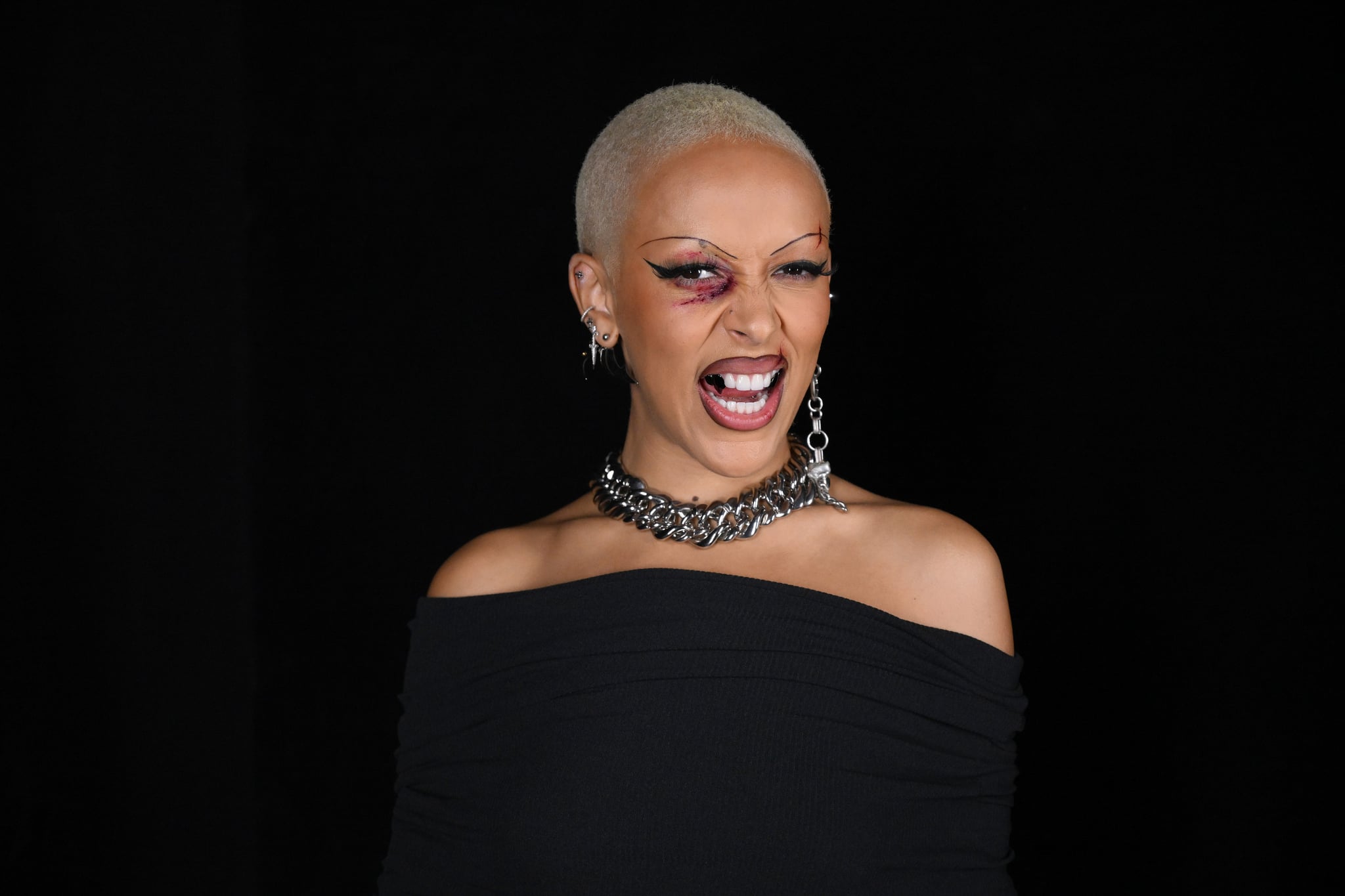 Doja Cat has everyone's attention with the spectacle of her upcoming album, which has gone through a few title changes, but will be called "Scarlet," according to her September 2023 Harper's Bazaar cover interview. After dropping the LP's first single, "Attention," on June 16, the rapper and pop star told the publication it's "kind of an intro to what's to come."
"This new album is more introspective, but I'm not leaning so hard into that to where it becomes boring," she said. "So I want to give stories and bops. It's a nice mixture of both. I think this project is a really fun canvas for me to play with my rap skills and talk about what's going on in my life. But I'm not abandoning who I was and what I know about pop and singing and that aspect of music."
Doja has been revealing more and more about "Scarlet" in recent months, as she followed up with a second single, "Paint the Town Red," on Aug. 4, and a third, titled "Demons," on Sept. 1. And, finally, the album has an official release date for late September.
In the lead-up to the new album, Doja's also been ruffling a few feathers. After debuting her life-imitates-art cat look at this year's Met Gala on May 1, the 27-year-old "Say So" artist triggered some strong feelings on Twitter over her music — which has long since been the center of arguments over which genre it belongs to (many argue either hip-hop, pop, or that no label is needed).
On May 9, Doja claimed she tricked fans into investing in her last two albums, released in 2019 and 2021, writing in a since-deleted tweet, "'Planet her' and 'hot pink' were cash-grabs and yall fell for it. now i can go disappear somewhere and touch grass with my loved ones on an island while yall weep for mediocre pop."
Doja's revelations about her music may not shock those who caught her other tweets that month, in which she revealed what she thought about her previous pop releases. On May 7, when a Twitter user asked, "At what point do you feel like you moved away from the mentality of doing what others wanted?" Doja wrote back, "After coachella when I felt so tired of doing a bunch of sh*t i didn't believe in and not telling my side or my story with my music." She added, "When I realized I hadn't done anything personal and that i was cranking out digestible pop hits for children on twitter to get into fights about." On April 8, Doja also tweeted, "pop isnt exciting to me anymore. I dont wanna make it." All of those tweets have since been removed from her account.
In an interview with V Magazine published on July 17, Doja opened up again about some of her past comments and her new direction for her upcoming music. "I have thrown fits my whole career because I have been making music that didn't allow me to have a mental release," she explained. "I have been making music that is palatable, marketable, and sellable, that has allowed me to be where I am. Now I am making music that allows me to express the way I feel about the world around me."
She added, "These upcoming projects are going to be very different compared to everything I've done and I am excited about that. I do not care if people are not." She also said that the music she has made is "pop music," but she's "currently making rap, soul, and R&B music with jazz elements." She also told the outlet she's "very inspired by hatred and outrage culture."
It's not the first time Doja has been vocal about wanting to move away from the sound that's earned her several Grammy nominations, including a best pop duo/group performance win for 2022's "Kiss Me More," a collaboration with SZA. She tweeted a fan on April 8 to share that her next project would be "rap only," but she also told CR Fashion Book in September 2022 that she was "very into this '90s German rave kind of vibe" at the time, adding, "That's kind of a hint to the album."
Find out everything else we know about Doja's "Scarlet" album ahead.
Doja Cat's Fourth Album Title
Doja's next album is set on the title "Scarlet," however, another name was previously tossed around. After her controversial May tweet about misleading fans set social media ablaze, Doja followed up with another tweet (also since deleted) to reveal the old name of her album (though she could have been trolling all along). She wrote, "Its not called hEllMoUth either its called 'First of All' and yes I'm announcing the album title right now."
On Aug. 31, Doja released a photo of the album's updated cover art on Instagram.
Doja Cat's Fourth Album Tracklist
The official tracklist for "Scarlet" has yet to be shared, but it's safe to bet her first three singles — "Attention," "Paint the Town Red," and "Demons" — will appear on it.
Doja Cat's Fourth Album Release Date
"Scarlet" is set to drop on Sept. 22, per Doja's Instagram announcement with the album's red spider cover art. It'll arrive a little more than a month before Doja heads out on the road with Doechii and Ice Spice for The "Scarlet" Tour, which kicks off in San Francisco on Oct. 31.
Doja Cat's "Demons" Music Video
Doja Cat's "Paint the Town Red" Music Video
Doja Cat's "Attention" Music Video