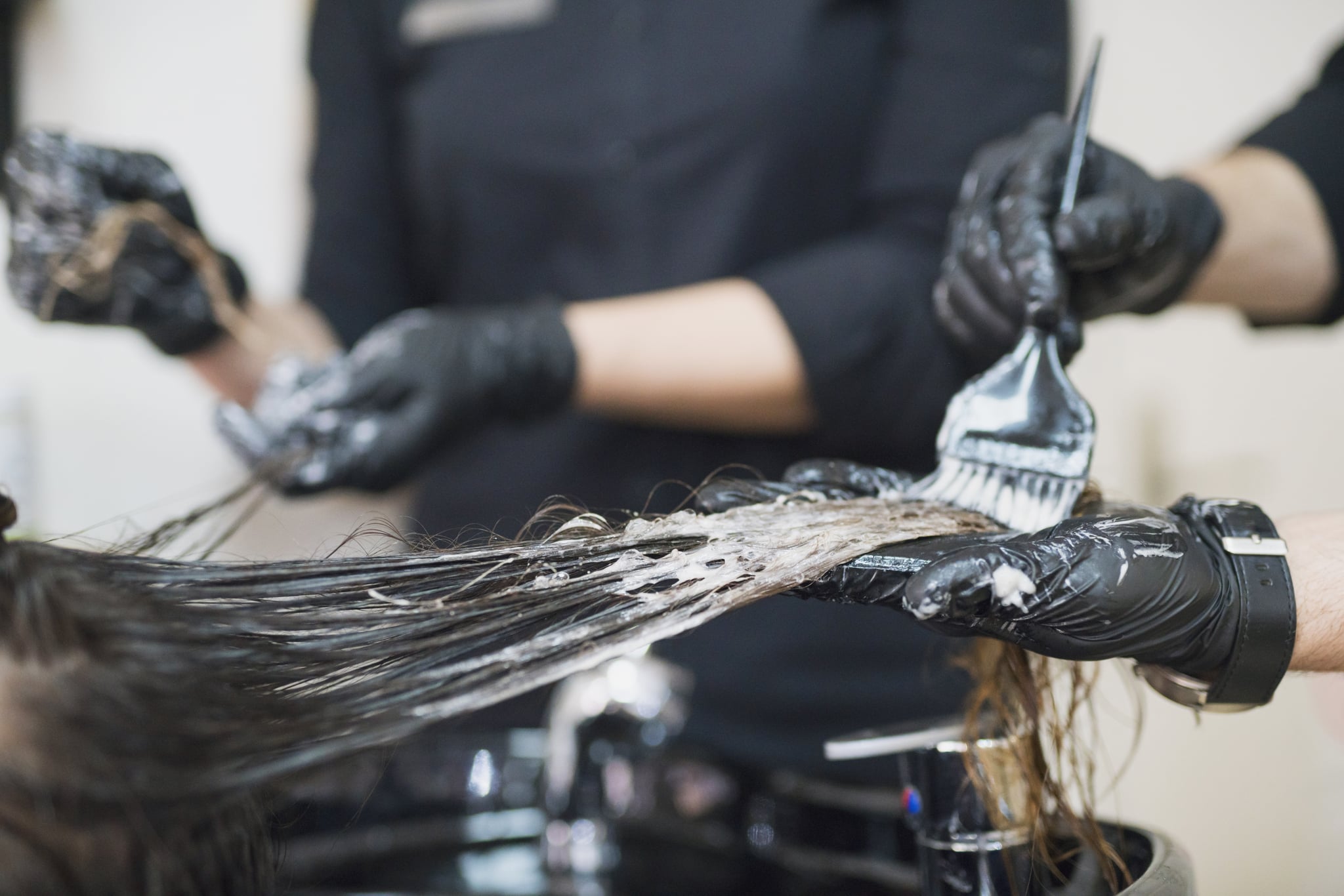 Changing up your hair should be a fun experience, but sometimes, the jargon and nuances of different offerings out there can make things a little confusing — especially when it comes to hair color. There's a laundry list of hair-color terms to keep track of, like highlights, toner, balayage, and hair gloss, to name a few. At the salon, you can always ask your stylist to explain what each one means, but if you're doing your own research at home — or attempting to dye your hair yourself — it can be tricky to navigate. Semi- vs. demi-permanent hair color is one of those things that you've likely heard of, but you may not fully understand.
If you're shopping in the color aisle weighing the different options available to you, the bottles may read "semipermanent" or "demi-permanent hair color," and those words can greatly affect the result and, more importantly, how long it lasts. To learn more about the difference between these two types of hair dye, we tapped Matt Rez, celebrity hairstylist and Moroccanoil global ambassador. As the person responsible for the dreamy hair colors seen on Hailey Bieber, Sydney Sweeney, Adele, Jennifer Coolidge, and many more, you can trust he knows his stuff. Keep reading for a full breakdown.
The Difference Between Semi- vs. Demi-Permanent Hair Color
The biggest difference between demi- vs. semipermanent hair color comes down to how long the pigment lasts. "Semipermanent color washes out within a few washes, depending on the color used and how porous the hair was when pre-coloring," Rez says. It's a great option if you're looking to experiment with a new look or recreate a costume for a special occasion. It'll last longer than just the hair pigment you pick up at the party store (which tends to get all over everything), but still washes out relatively soon.
"A demi color should last up to 20 washes or so," says Rez. This makes it a great longer-lasting option for those looking to enhance their hair color. Ahead, we'll go into more detail on these two different types of dye.
What Is Semipermanent Hair Color?
The longevity of hair dye is affected by how deeply the color penetrates the cuticle of the hair. "Semipermanent colors are non-oxidative and do not get mixed with developers or processing solutions," says Rez. "They are a direct dye and stain the hair." Because the dye sits on top of the hair follicle rather than penetrating it, it washes out rather quickly.
Rez explains that semipermanent hair color is great for what he calls "fantasy colors" (aka playful, temporary transformations) or at-home color enhancements. "They are great for those who want to add a hint of color, go more vibrant over bleached hair, or try a color with the least amount of commitment." If you're not sure about a new look, semipermanent dye is a low-risk way to try it out.
"There are clear semi-colors such as Moroccanoil Color Depositing Masks ($29) that bring an incredible amount of shine with a treatment built-in to make hair super reflective and healthy," Rez says. Other great options include the dpHUE Gloss+ Medium Brown Semi-Permanent Hair Color ($35) and the Good Dye Young Semi-Permanent Hair Dye ($17).
What Is Demi-Permanent Hair Color?
As the more potent option of the two, demi-permanent hair color does enter the cuticle of the hair. "A demi color is a non-ammoniated, no lift formula mixed with a processing solution," says Rez. "Demi colors slightly lift the cuticle so color can live within it." By penetrating the outermost layer of the hair cuticle, the color can last around 20 washes, however, it doesn't absorb deeper than that, as permanent hair dye does.
"Demis are great for those who want more lasting results, but do not fully go in with permanent color," Rez says. This type of dye works wonders on toning overall color, adding shine to hair, covering grays, and giving your natural shade a slight, subtle tweak. Some great options of demi-permanent dye include the Clairol Natural Instincts Clairol Demi-Permanent Hair Color Cream Kit ($10) and Wella Color Charm Demi-Permanent Hair Color ($8).
While we always recommend booking an appointment at a hair salon with a trained professional, if you are going to experiment at home, it's always a good idea to educate yourself on what's out there.