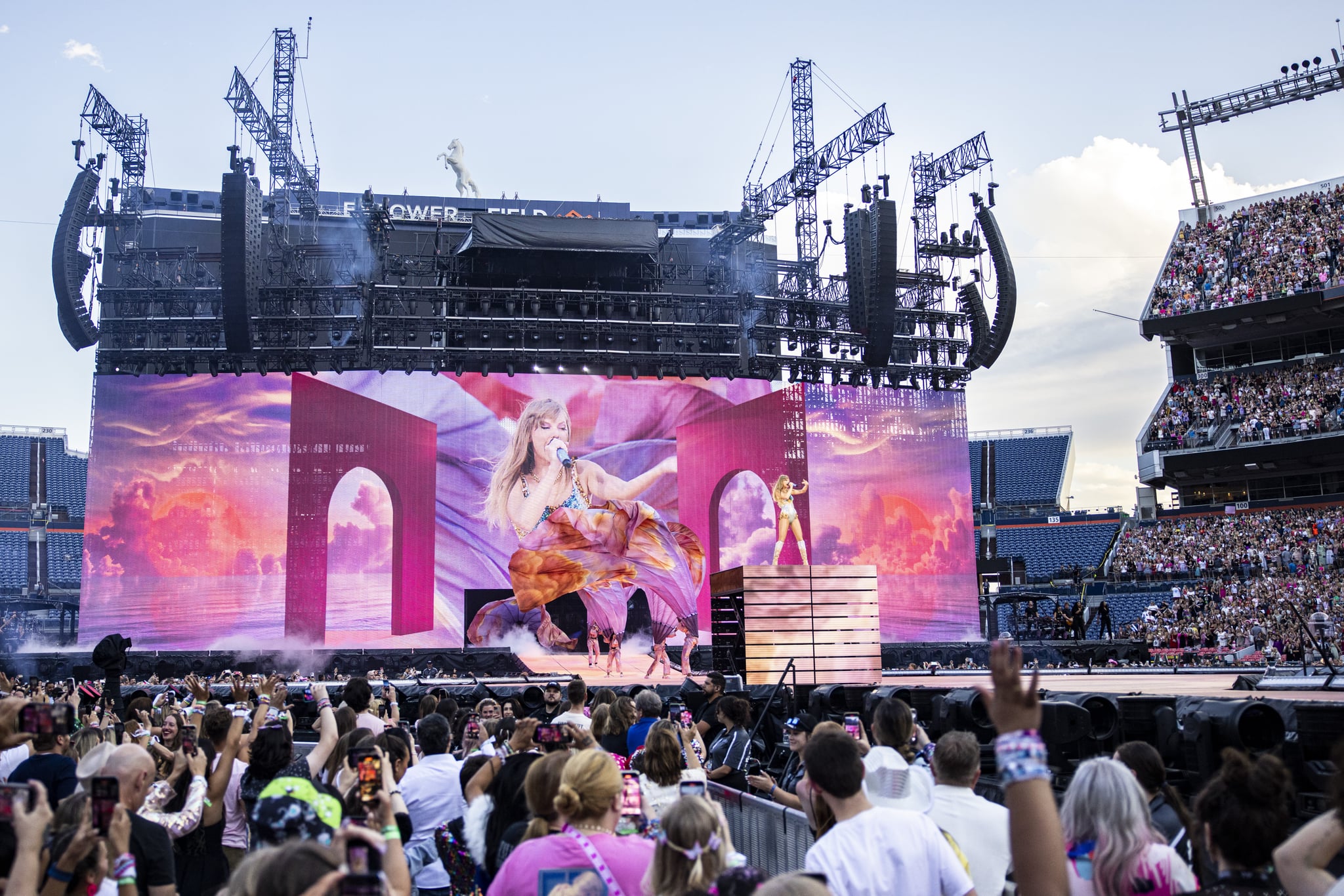 When I was 12, I was hopelessly in love with this boy . . . let's call him Chase. Chase was the definition of a mid-aughts teenage dream: his attitude was angsty, his hair was floppy, and I'm pretty sure he had skinny jeans in every color. My love for Chase was unrequited — he barely noticed me (but did take notice of my friend Madison). Every night, I attempted to write about my feelings for Chase in my diary, but I didn't have the words. How could I articulate what he meant to me and how his interest in Madison made me feel?
It didn't click until one morning, while my mom was taking me to school, a song played on the radio: the 2007 seminal classic "Teardrops on My Guitar," written and performed by Taylor Swift. I was shocked — the country-pop track eloquently described how I was feeling (the song was even inspired by the singer's own unrequited teenage love). I felt like Swift's youthful, punchy vocals and her heartbreaking lyrics were tailor made for me. I'd connected with artists before, but not like this. I couldn't stop listening to, or talking about, "Teardrops on My Guitar." And just like that . . . I was a Swiftie.
Years went on, and I remained a loud and proud fan of the singer. I bought every single on iTunes. I had every poster. I knew every lyric and fun fact about the Pennsylvania native (did you know she wrote a book titled "A Girl Named Girl" when she was 14?). The late '00s were the dawn of Swiftie mania, so I was in good company. Tween girls around the world were obsessed with her breakup-inspired music.
Then, in 2009, the MTV Video Music Awards incident happened. When Kanye West stormed the stage and declared that the singer did not deserve to win best video by a female artist, public perception of Swift shifted. My fellow Swifities were outraged at the rapper's interruption, while the Black community deemed West a hero. Those opposing responses put me, a Black fan of Swift, in a complicated position.
After all of these years, I still felt conflicted about my Blackness and Swiftie-ness.
I remember being quieter about my love for Swift after that, especially when I was around Black people. I felt like I had to pick a side — I knew I was on Swift's and that it would be something I'd have to hide. Once, I let it slip that I was Team Taylor when I was hanging out with a few cousins, and they tore me a new one. "You know that stuff isn't for Black people, right?" One of my cousins asked. I was confused and annoyed, but I didn't say anything back to them.
As the years went on, Swift only became more of a controversial figure among Black people. She was accused of being racially insensitive on more than one occasion, most notably in 2015 following the release of the music video for "Wildest Dreams," which was shot in Africa. The singer also went quiet for a little too long after an alt-white neo-Nazi deemed her an "Aryan ideal" in 2016. And while these side-eye-worthy incidents were happening, Swift was evolving as an artist. She started to abandon the country-pop sound I fell in love with, in favor of more experimental music. Her fan base was evolving, too — white women became the face of Swifties. By the late 2010s, I felt isolated from the singer, and I stopped listening to her music.
Until two weeks ago. "Teardrops on My Guitar" popped up on my YouTube homepage, and I decided to play it for the first time in close to a decade. I was alive, and instantly that lovesick teenager again. I even decided I'd check out her new music. Halfway through the song, though, my boyfriend, who's Black, walked in the door, and I slammed my laptop shut. I didn't want him to notice what I was listening to. Because, after all of these years, I still felt conflicted about my Blackness and Swiftie-ness.
But I want to shake that shame off and get back to the joy Swift's music once gave me. I figured the answer lies with other Black Swifties, so I sent out a call on social media. Many fellow fans were generous enough to unpack how they've navigated their love of Swift and their Blackness.
Most shared that, like me, they've had to grapple with being a Black Swiftie. Take Lily Wilkinson, who shared that her cousin was "genuinely upset" when she got a tattoo inspired by the singer in 2019. Wilkinson said her cousin cited Swift's "internalized misogyny and also blind loyalty to Black men because they're Black" as the reason for her disdain. However, now, after seeing the "economy-boosting power" of Swift's Eras Tour, her cousin is more supportive of Wilkinson's Swiftie status.
"If TikTok is anything to go by, there are more BIPOC Swifties than ever," Wilkinson explained. "There are more people that have done the work of dismantling their internal race and gender biases, and more people that recognize that you don't need to compare Taylor to Beyoncé in order to understand that they're both unbelievable talents and we are lucky to bear witness to their successes."
Exquisite Williams, meanwhile, compared being a Black Swiftie to going to a predominantly white institution.
"It can be an achingly lonely experience," she said. "One that requires you to find and build your own community of other Black Swifties."
Williams added that she's constantly asked if Swift is for Black listeners.
"If you knew the number of times I've heard, 'Taylor Swift has Black fans?' or 'I've never seen a Black Swiftie,' you would go insane," she said. "It doesn't help that the white voices are so dominant. Not to mention the non-Black Swifties of color who can be just as racist and violent."
Williams said she has even gotten racist threats regarding her status as a Swiftie: "I've received nooses in my DMs for daring to question or criticize something Taylor does."
Nothing, including being a fan of Swift, can compromise my Blackness.
The relentless animosity and questioning are emotionally taxing, to say the least. To cope, Williams said she tries to make light of the reality of being a Black Swiftie. "I learned to find the humor in it, but it still affects me," she told me. "All Swifties are almost inherently defensive of their love for Taylor . . . and it is even more apparent in Black Swifties because we have to be on the defense from every single angle."
Similarly to Williams, Ajhée Nolen shared that, in her experience, most of the hate she receives for being a Black Swiftie occurs online.
"You correct someone on an assumption they have or just flat out disagree, they automatically assume you're white or that you're not 'really' a Black person," she explained. "You're whitewashed or whatever term they feel like using that day."
My fellow Black Swifties' commentary is, in many ways, freeing. Over the years, I've felt alone in my love for Swift and my Blackness. But hearing that my experience is common has inspired me to reacquaint myself with the singer. I know her earlier work well, and I look forward to adding her 2010s hits (her versions of them, of course) to my playlists, but I'm more curious to check out her newer work. Maybe 2022's "Midnights" has a track that will speak to me like "Teardrops on My Guitar" did.
"I think for anyone that's passionate about anything or anyone, it's important to know that it's not going to make sense to everyone," Black Swiftie Alexander Hinnant told me. "What you love is always going to have the capacity to rub someone the wrong way, and no one is invalid for how they feel about it."
Hinnant is right. I'm confident enough in my racial identity to know that nothing, including being a fan of Swift, can compromise my Blackness. I can still connect with the hopelessly romantic teenage girl who loved how Swift articulated the wonders and woes of love, all while still being the powerful Black woman I am today. That girl is a part of me I treasure, thanks to Swift.
Image Source: The Denver Post via Getty Images / MediaNews Group / Grace Smith