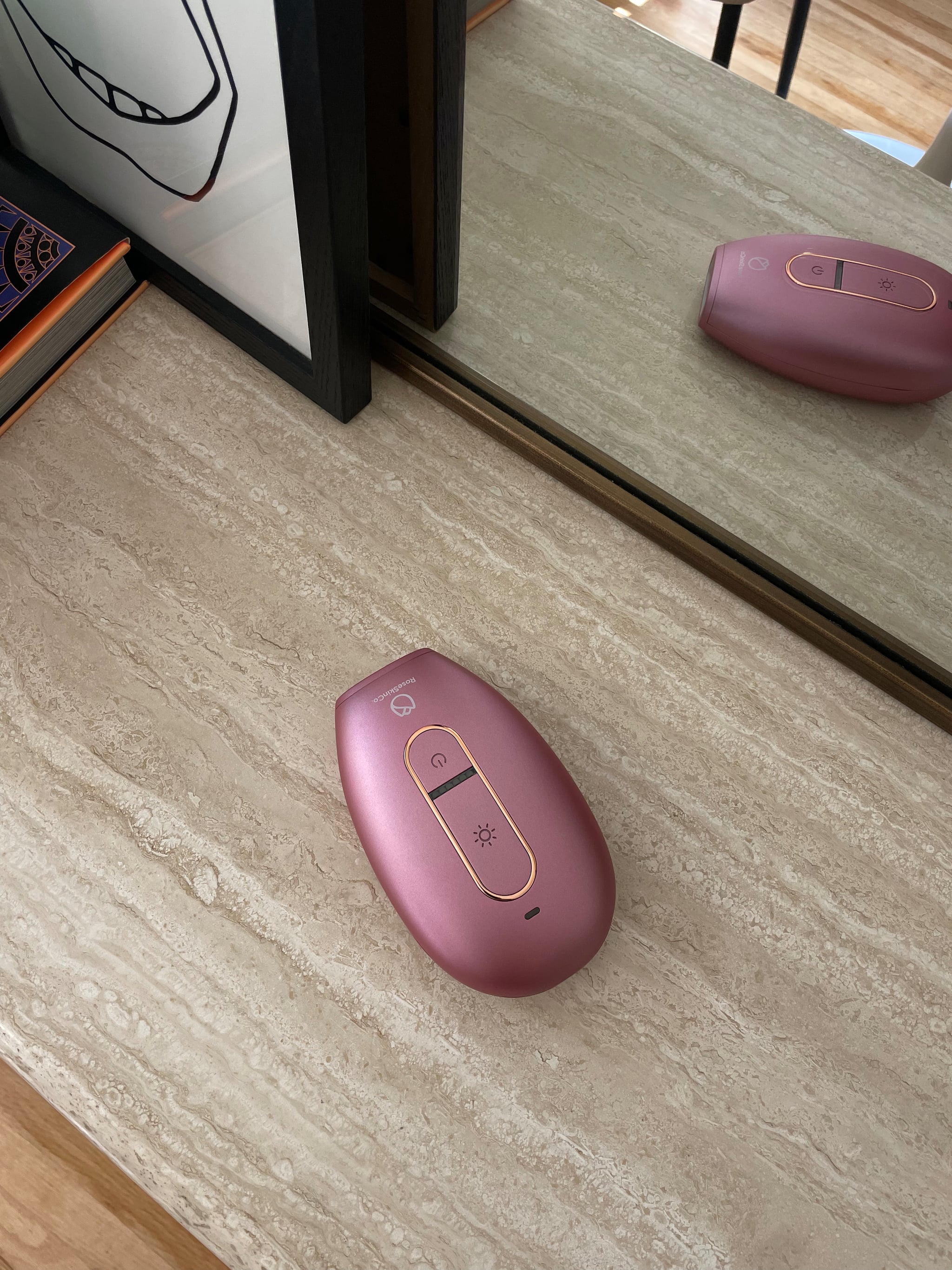 I'm no stranger to hair removal and all the pain that comes with it. Sometimes, it's physical pain, like when I tried sugaring during a "vajacial." Other times, it's emotional pain, like when my mom grounded me for a month after she caught me shaving my legs at 12 years old. Either way, getting rid of body hair can be a drag, especially for someone like me who has dark hair that grows fast. While most of my friends seem to be able to go at least a couple of days without shaving their armpits, I just so happen to have a five-o'clock shadow immediately after putting down the razor. I've explored pretty much all avenues available to me other than laser hair removal because the process is pricey and requires frequent trips to a professional, which takes more time than I'm willing to give.
I've heard about at-home hair removal through handheld devices that use intense pulsed light (IPL), but there are so many different products on the market, I wasn't sure which one would be right for me. After seeing quite a few friends and TikTokers boast amazing results from the RoseSkinCo Lumi IPL Hair Removal Handset ($189), I decided to give it a try — and I'm so glad I did.
Keep scrolling to read my full review of the device and find out how it's helped me kick shaving to the curb.
About the RoseSkinCo Lumi IPL Hair Removal Handset
This hair-removal device uses intense pulsed light (IPL) to target hair at the root.
It utilizes a xenon quartz ray-tube lamp.
It has six different intensity settings and three different mode settings for different areas of the body: stamp (for the face, underarms, and bikini line), glide (for areas like arms and torso), and auto (for larger areas like your legs).
It is not recommended for use while pregnant.
What I Like About the RoseSkinCo Lumi IPL Hair Removal Handset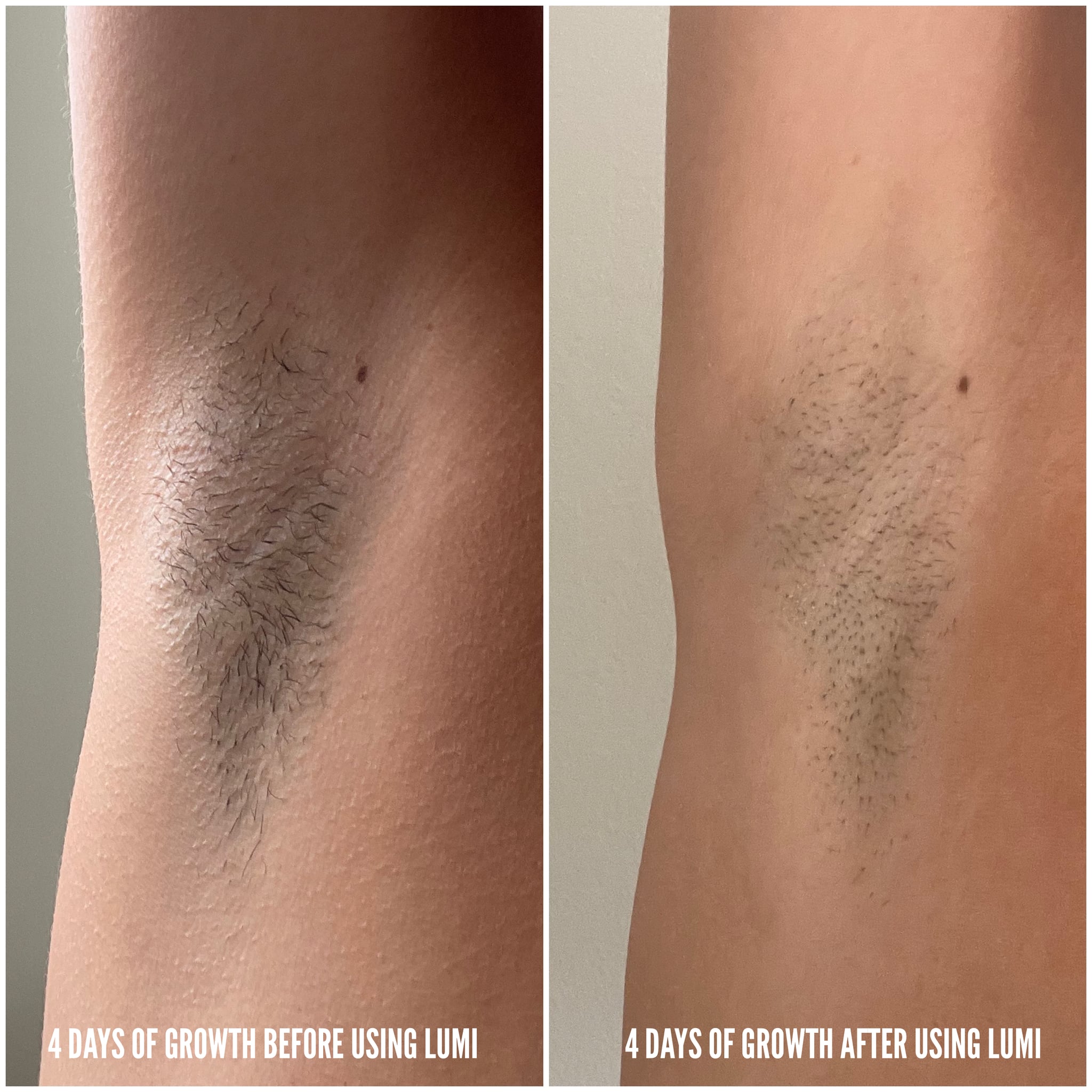 I have sensitive skin, and I've only undergone a laser procedure once, and that was on my face. Despite taking all the necessary precautions, my skin had a slight reaction, so I was nervous the same thing would happen when testing this device. However, I was pleasantly surprised to find I experienced no irritation or reaction whatsoever, and I had pretty amazing results.
The first time I used it, I was expecting to feel some type of pain, but it didn't hurt at all, other than a slight warming sensation. Honestly, if it weren't for the bright flash of light, I might have forgotten I was using it at all. While I didn't notice any major difference in armpit-hair growth after my first session, by the time my fourth session came around, I could visibly tell that my hair was growing back thinner and less dense. My armpit hair used to grow back fast, and after four days, it was extremely noticeable. Now I can go four days and it looks like it's only been two.
Overall, I had quick, pain-free, and noticeable results, and I can't wait to keep using it on my underarms and everywhere else I grow unwanted hair.
How to Use the RoseSkinCo Lumi IPL Hair Removal Handset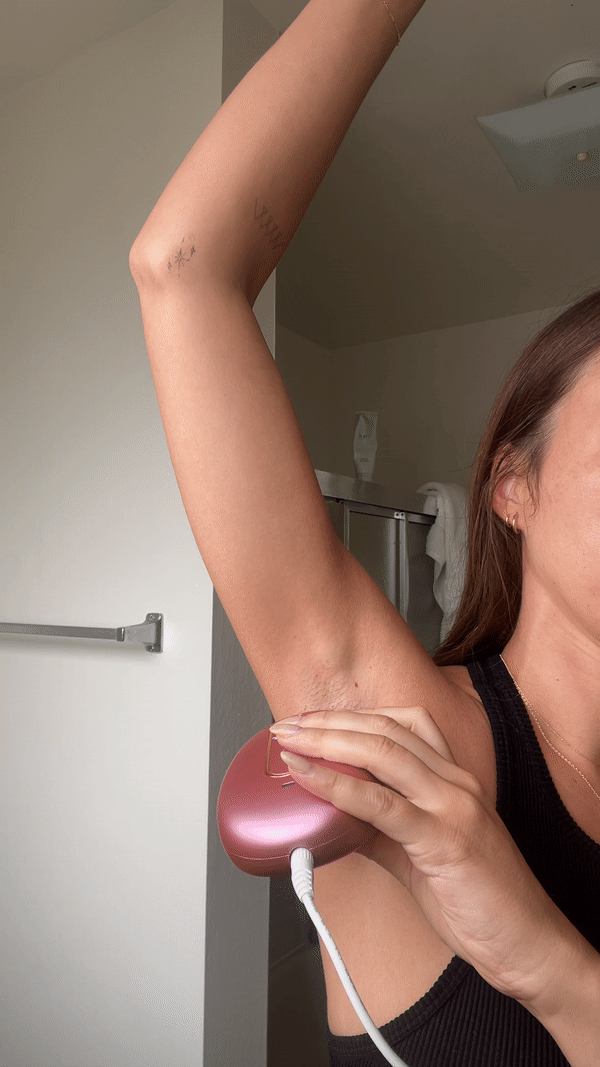 Initially, figuring out how to use this device was the trickiest part, but the directions were easy to follow, and I got the hang of it after just one go. The brand cautions that you should read the entire user guide prior to trying the Lumi for the first time, which is where I learned how to prep my skin prior to use. I started out by shaving any visible hair on my armpits in the shower, and then I made sure everything was clean, dry, and free of any lotions or gels (including deodorant). This is so that the laser can target the hair follicle properly.
Next, I plugged in and turned on my Lumi and chose an intensity level. At the start, I chose level one, but by week three, I had bumped up to level three. I also went with the "stamp" mode, since that was listed as best for underarms. Then I placed the Lumi flat against my skin and waited for the indicator light to blink. Once the light started blinking, I pressed the pulse button. I repeated these steps until my entire armpit was "treated," making sure not to overlap on any areas. After each session, I made sure to moisturize the area, and I tried to skip out on deodorant if I could. Then, after unplugging the device, I cleaned off the flash window with a slightly damp paper towel.
The brand recommends using the Lumi twice a week for 12 weeks in order to see the best possible results and to wait 72 hours between each use. So far, I've used it twice a week for three weeks in a row.
What to Consider Before Trying the RoseSkinCo Lumi IPL Hair Removal Handset
I've had great success with this product, but there are a couple of caveats. First, it does require time and commitment. As previously mentioned, the brand says the best possible results will be seen after 12 weeks of consistent use, which can be hard to accomplish if you're traveling or constantly on the go. Luckily, the Lumi is fairly small, so it would be easy to travel with.
If you've been suntanning, you'll want to wait two weeks prior to using the Lumi because it can cause skin sensitivity. So if I do decide to do my legs and bikini line, I'll probably wait until the winter months, since those areas of my body are more often exposed to the sun.
Also, since IPL works similarly to laser hair removal, it works best on high-contrast hair and skin tones, which means it works best on light or medium skin tones with dark hair. If you have dark hair on dark skin or light hair on light skin, it's best to consult with a dermatologist or aesthetician prior to trying out this device.
Is the RoseSkinCo Lumi IPL Hair Removal Handset Worth the Splurge?
Depending on your location and where you go, professional laser-hair-removal treatments can cost you anywhere from $300 to $500 per session, and you typically need around 10 sessions to see long-lasting results. Considering the fact that the Lumi is under $200, I absolutely think it's worth the splurge. Although it requires a little extra elbow grease since you're administering the treatment yourself, I love the fact that I don't have to travel anywhere to get my treatments and I can do them in the comfort of my own home.
Rating:
Image Source: POPSUGAR Photography / Renee Rodriguez